The City of Cincinnati's Residential Property Tax Abatement makes it possible for owners to lower the taxes they pay on properties that have undergone recent renovation or are newly constructed (some municipalities outside of Cincinnati do offer their own version of an abatement). Under the abatement, the owner will only pay taxes on the pre-improvement value of the property for a 10-15 year period.
Longer abatement periods and/or higher abatement maximums are available for properties that meet Leadership in Energy and Environmental Design (LEED) standards.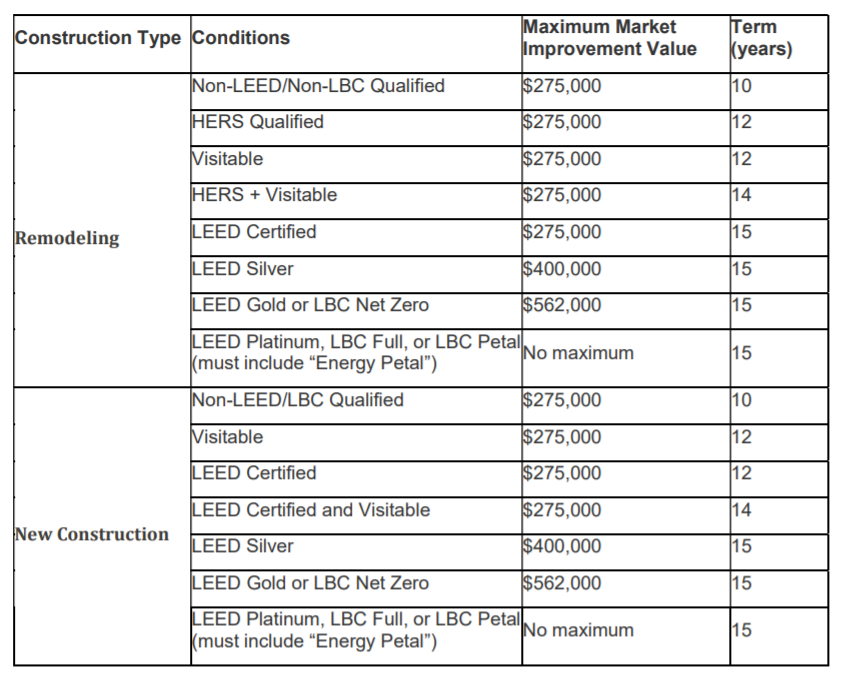 For example, a owner building a $530,000 home at LEED Gold on a lot valued at $75,000 has the opportunity to file for the abatement and only pay property taxes on the lot value for 15 years.
How Does LEED work? It's simple…
The U.S. Green Building Council outlines a checklist of green energy and environmentally efficient features that fall within 8 categories.
While few of these features are required across all levels of LEED certification, most are assigned a point value. Consumers and builders work together in the design process selecting LEED features and accumulate points.

A LEED rating of Certified, Silver, Gold or Platinum is based on the number of points worked in to the design of renovation or construction.
Accumulate points for common features such as:
Zoned Heating
LED lighting
Ceiling Fans
Radon Mitigation System
ENERGY STAR Appliances
Dual Flush Toilets
Savings Realized Over the Abatement Period
Earlier we mentioned a $530,000 home at LEED Gold on a lot valued at $75,000** that qualified for a 15 year abatement. This actually was a recent sale for Martin & Associates in Mt. Auburn closing Dec. 2018. You can see in the chart below the potential savings across each level of the abatement program.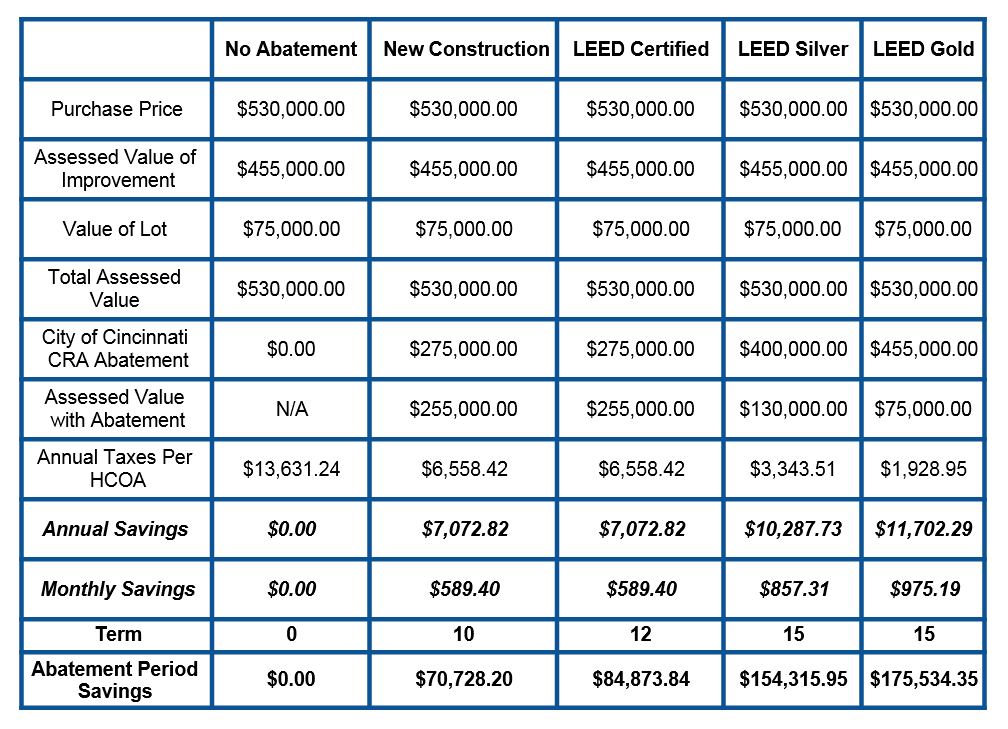 * Information contained above taken from https://choosecincy.com/resources/communities/ & Hamilton County Auditor
**Lot value estimated off recent area sales. Lot has not yet been assessed by HCA.