We visited HOMEARAMA in September. This showcase of luxury design trends and new styles is always a treat. We had the following takeaways: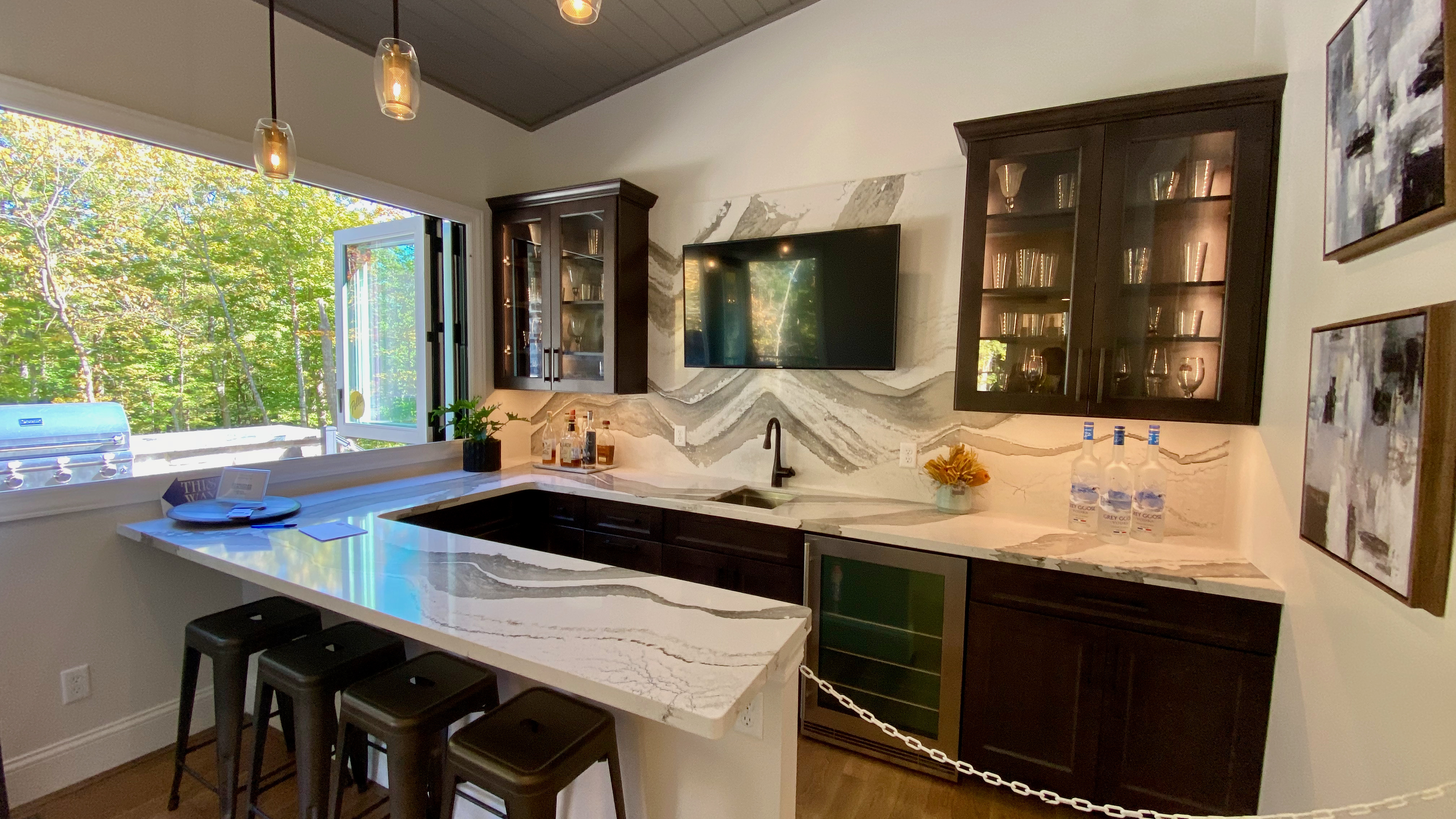 When it comes to Homearama in Cincinnati – it's the best designers coming together with the best builders and architects to showcase their skills and new/current trends and designs. I really felt that each builder touched on a different style and spun their own creative twist with it. Amongst all this creative expression, there were some common themes, however. I've covered them below.
Wallpaper's Back, Baby!
Wallpaper is the #1 thing we saw in all the homes, and if you like it or not – it's back in full swing! Though styles varied from dramatic to simplistic, almost every home had wallpaper in the powder room or laundry room. These spaces are usually smaller and the quantity of wall you need to cover is lower, so you can splurge on the nicer stuff.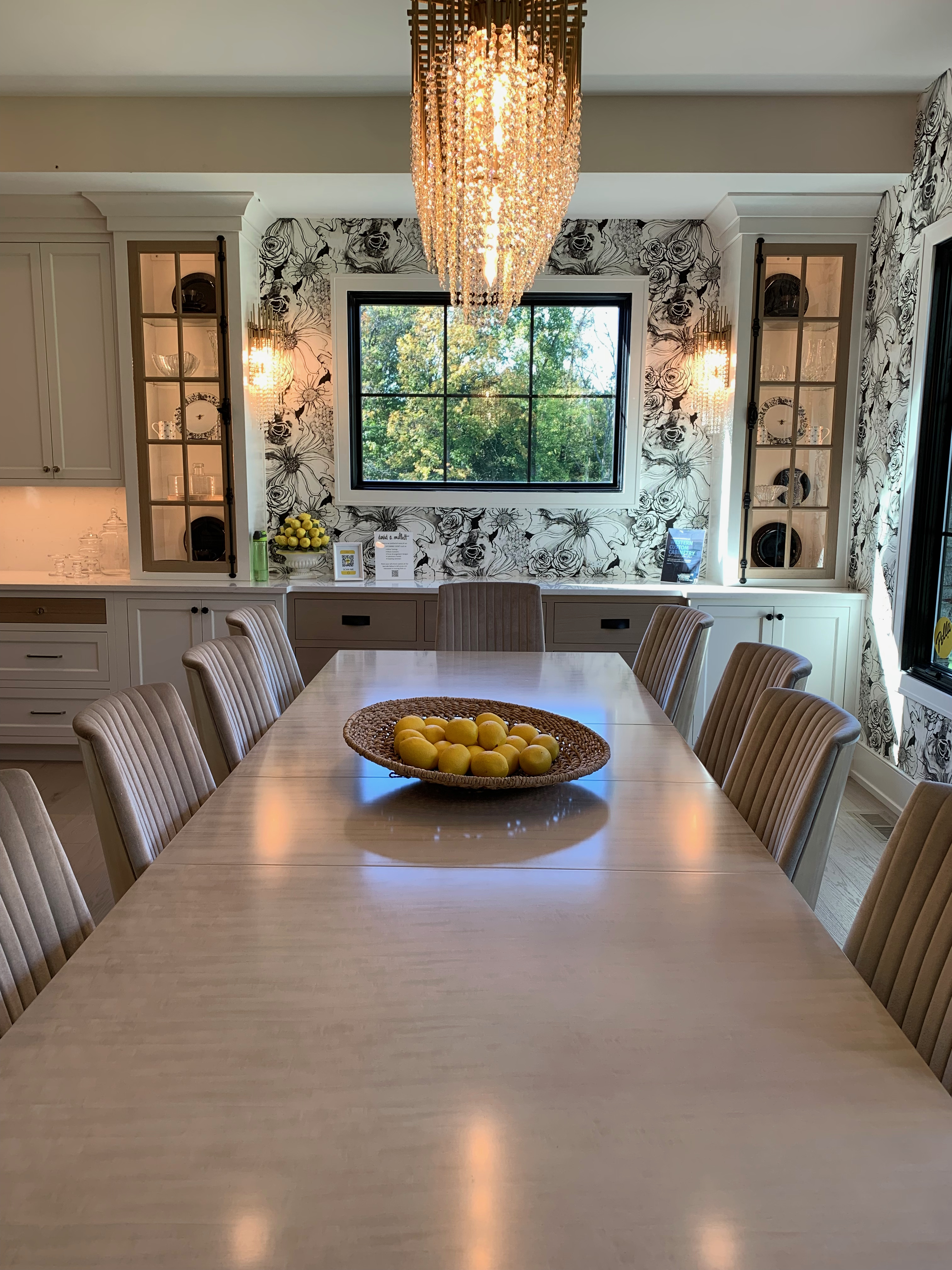 One noticeable stand out was the dining area of the 'Zicka' home where wallpaper was used to define the area around the cabinets. We saw this tactic frequently- only using wallpaper on one or two walls to give the room depth and definition. The primary bedroom in several of the homes had an accent wall with wallpaper behind the bed, achieving this look. These designers really helped showcase how to tastefully utilize wallpaper in your new build or remodel!
Keeping Colors Balanced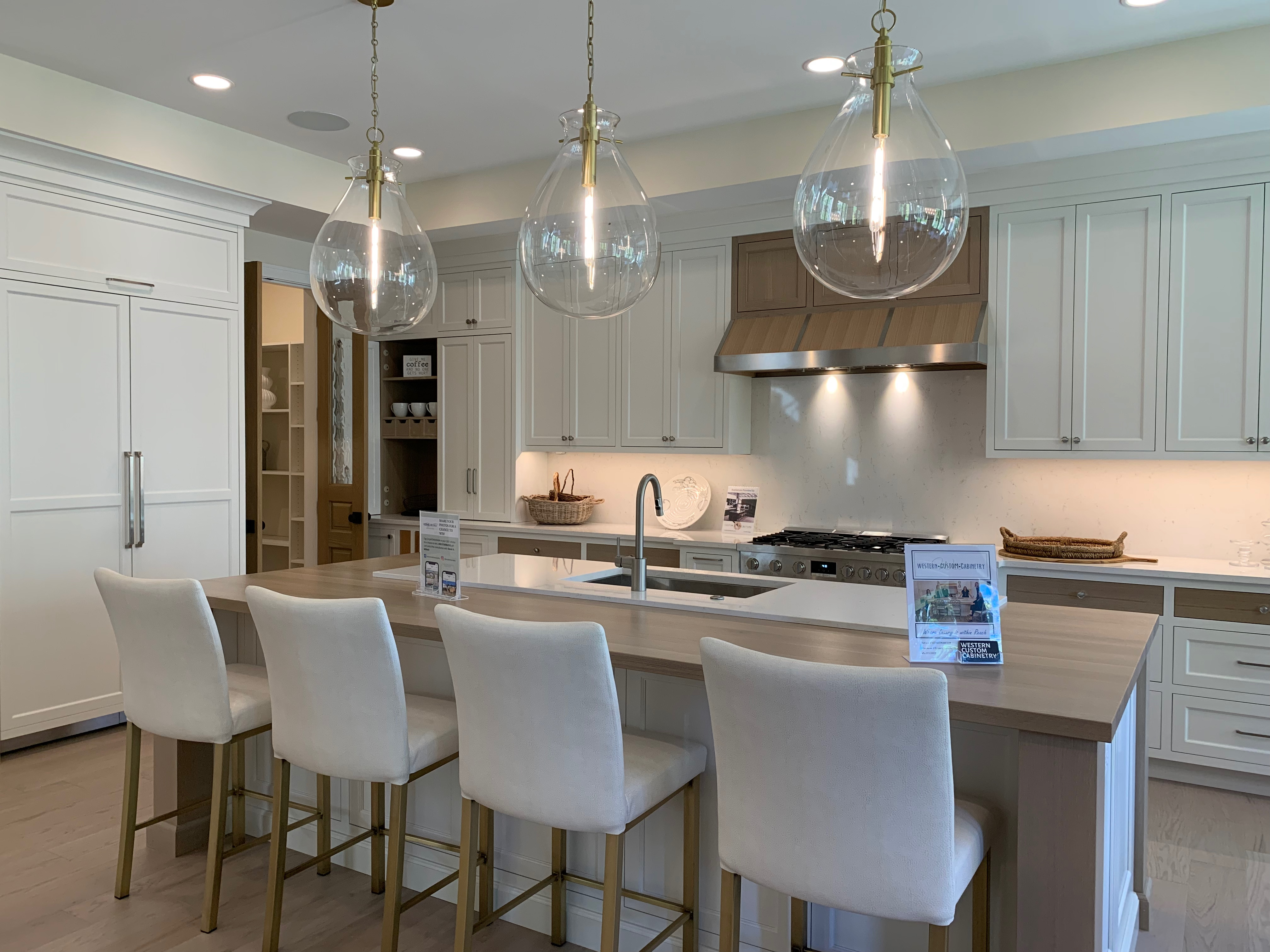 One of the things we saw from the designers was the healthy balance of crisp colors mixed with warmer elements. This helped create a calming and inviting feel throughout the home. Most homes in the showcase featured light wood floors against white walls. Some popular choices were 'Alabaster' and 'Snowbound White' (by Sherwin Williams), as well as 'Chantilly Lace' (by Benjamin Moore). A few homes utilized natural wood through other outlets like corbels and beams, creating a smooth contrast to the white of the walls and ceiling and drawing the eyes up. This natural base layer throughout the home really showcased pops of color from different outlets like textiles, throws, and artwork. Bold colors and exquisite trim were utilized in most of the homes, ranging from baby blue, navy blue, and black.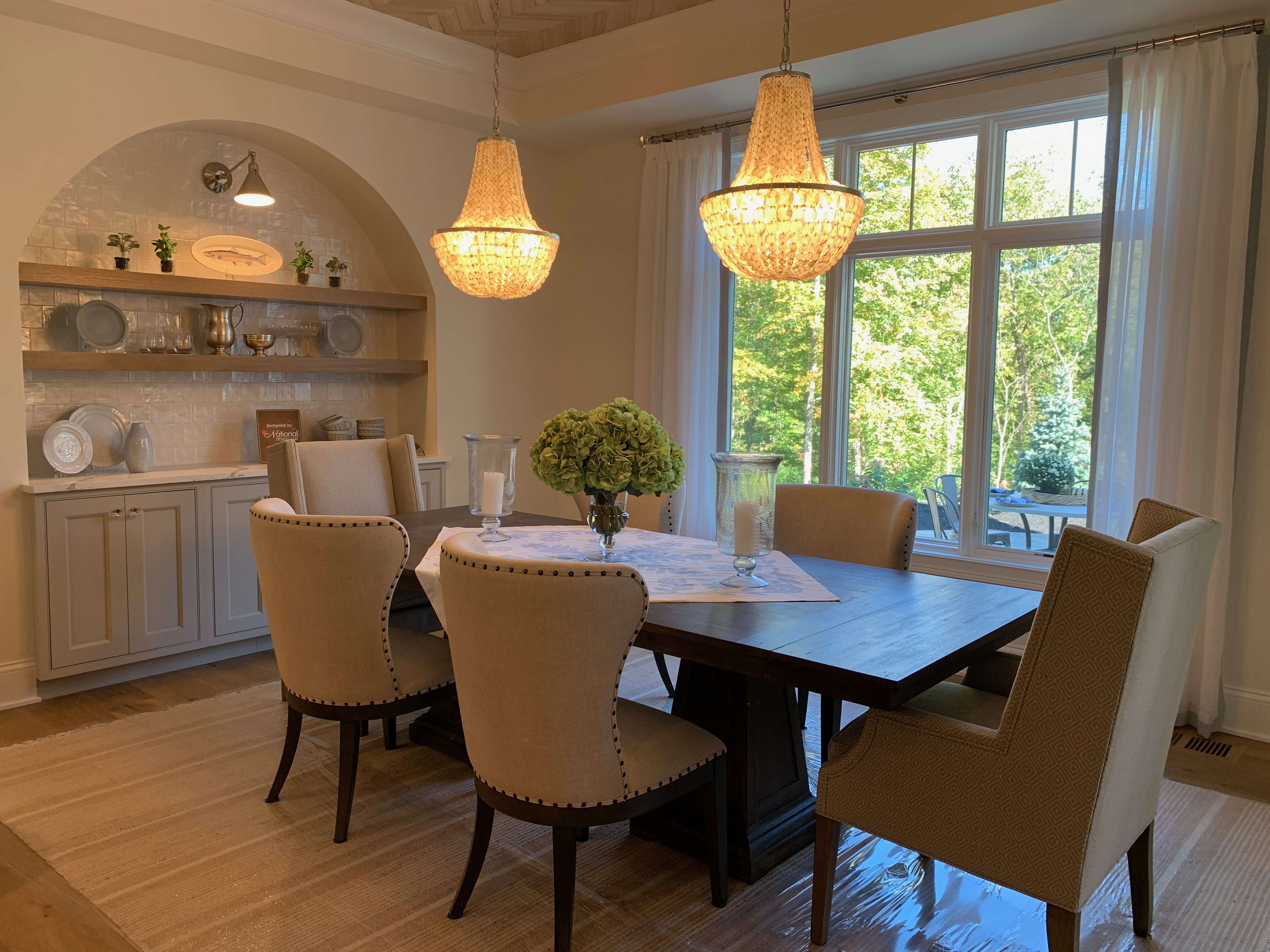 The space I saw few designers touch with natural wood elements was the kitchen! A few tried and succeeded with the status quo white kitchen elevated with natural wood elements. These spaces, although still very light and bright, had a natural look to them and stood out with more character. I expect this mixture of the white kitchens and natural oak materials is going to be a continuous design moving forward because the wood kitchens of today are not the dark walnut of the 2010s, the red cherry of the 2000s, or the honey of the 1990s – its light, bright, and current.
Switch It Up
Mixing metals is a very hot design today because people realized that not everything has to match and if different materials complement each other – that's all that matters. You can have a brass kitchen faucet and still have the cabinet pulls be an unpolished chrome. I noticed this predominantly in the primary bathroom: the pulls were brass, the sconces were an antiqued brass, the shower and sink faucets were polished chrome, and the door handles were black. Nothing felt out of place, and it all felt cohesive because the different metals were accenting something different each time. Keeping everything the same can feel mundane – it's okay to switch it up every once and a while!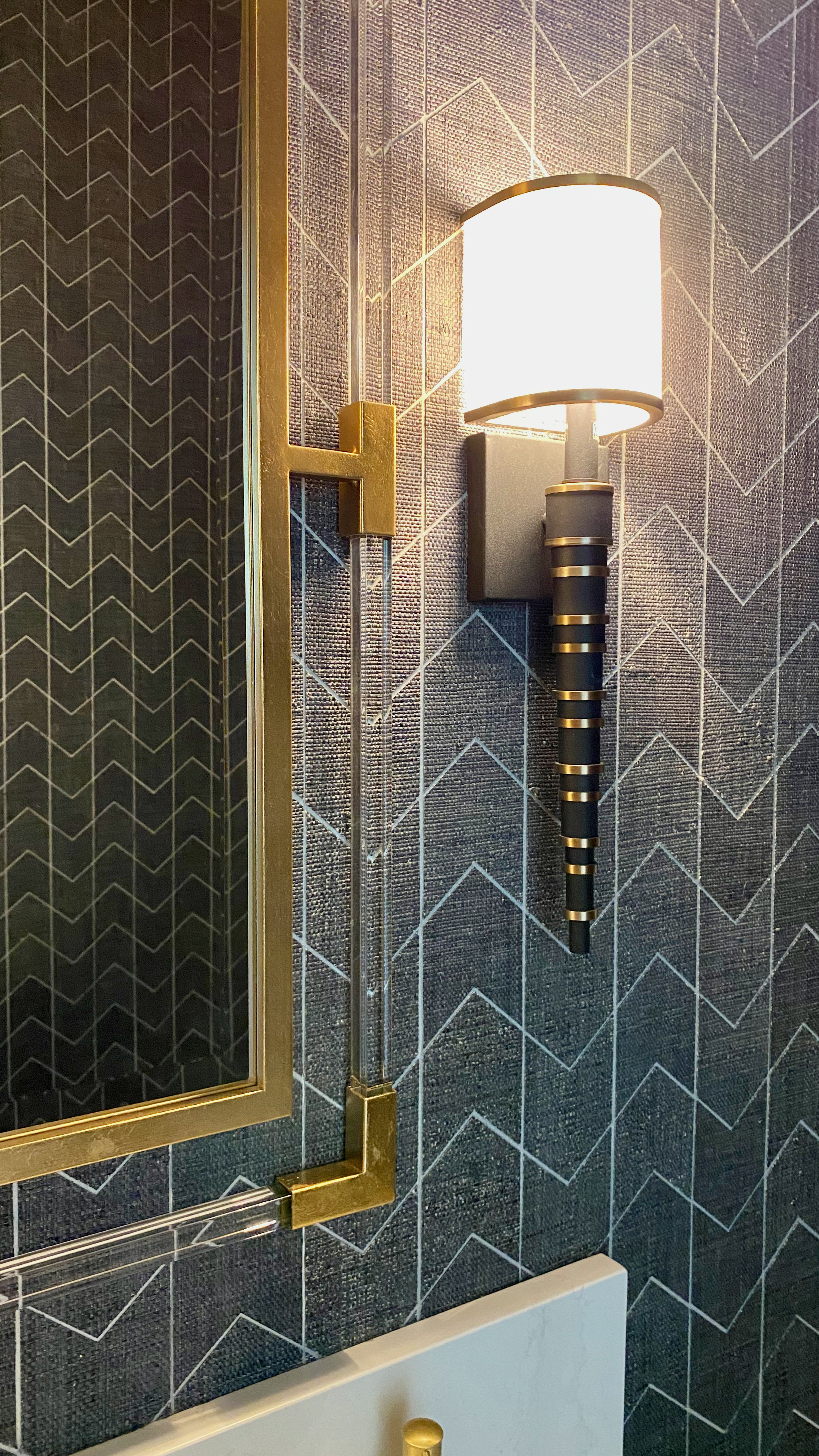 Put Your Pantry to Work!
Almost every home incorporated the newer trend of a 'working' or 'dirty' pantry. These spaces are a walk-in pantry but instead of shelves there are cabinets, countertops, and even appliances. This is useful for a variety of reasons. Reasons being utility & aesthetic – an extension of kitchen preparation space & elevates the aesthetic of the main kitchen, keeping counter clutter to a minimum. The primary purpose of the 'dirty' pantry is to keep the main kitchen from being cluttered and messy. It also helps when entertaining so everyone is gathered away from the cooking space. Aesthetics and utility can sometimes be contradictory when designing your kitchen space. The addition of a dirty pantry gives you the best of both!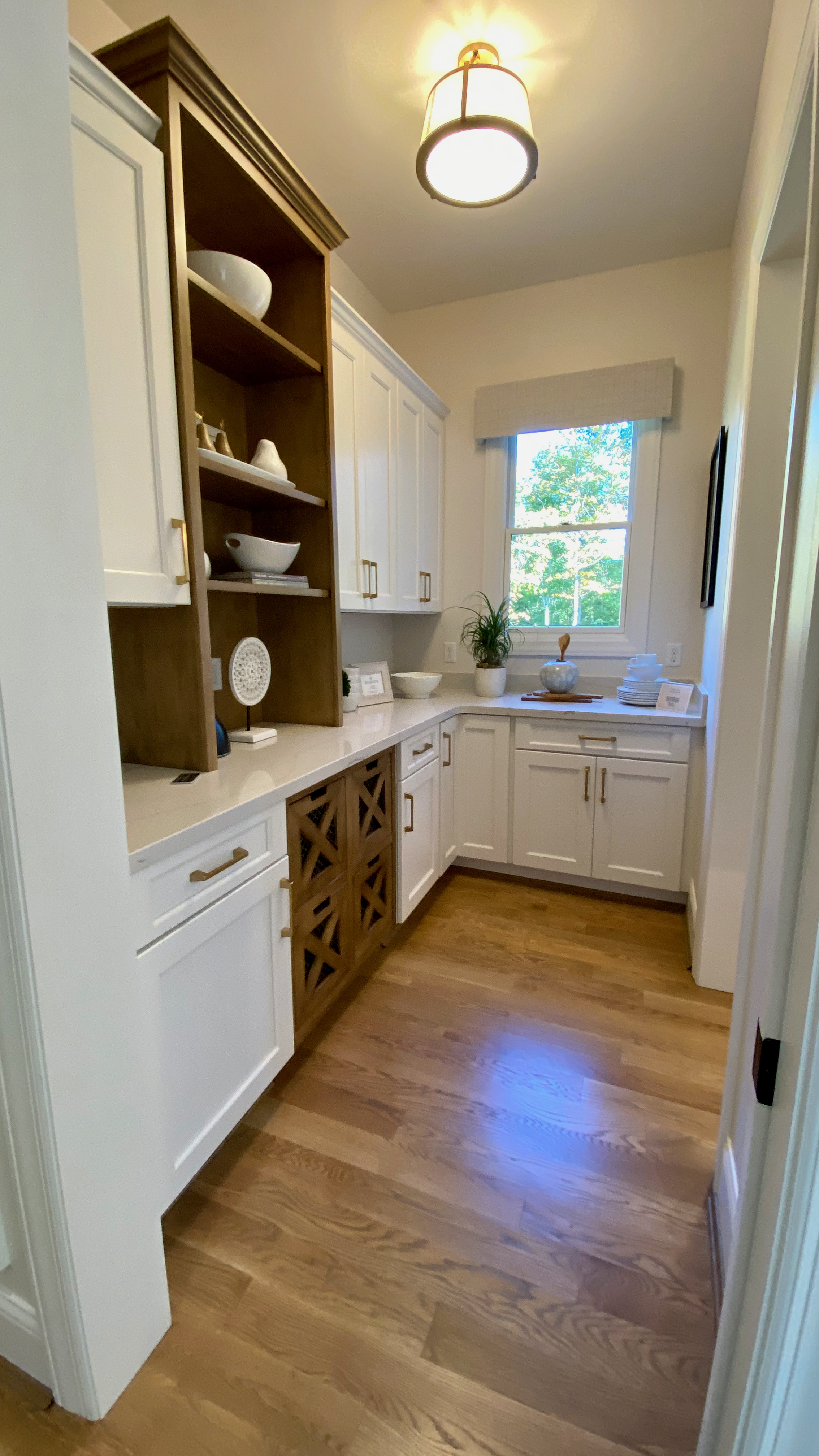 This trend is best utilized keeping a range, oven, dishwasher, refrigerator, wine refrigerator, and extra freezer drawers in the main kitchen; while the 'dirty' kitchen includes things that you rarely use but when you have them it makes a big difference – an extra oven, dishwasher, extra refrigerator, main freezer, and microwave. It also helps with the other small daily appliances that you use every day but don't want to leave out like the blender, stand mixer, coffee maker, and toaster.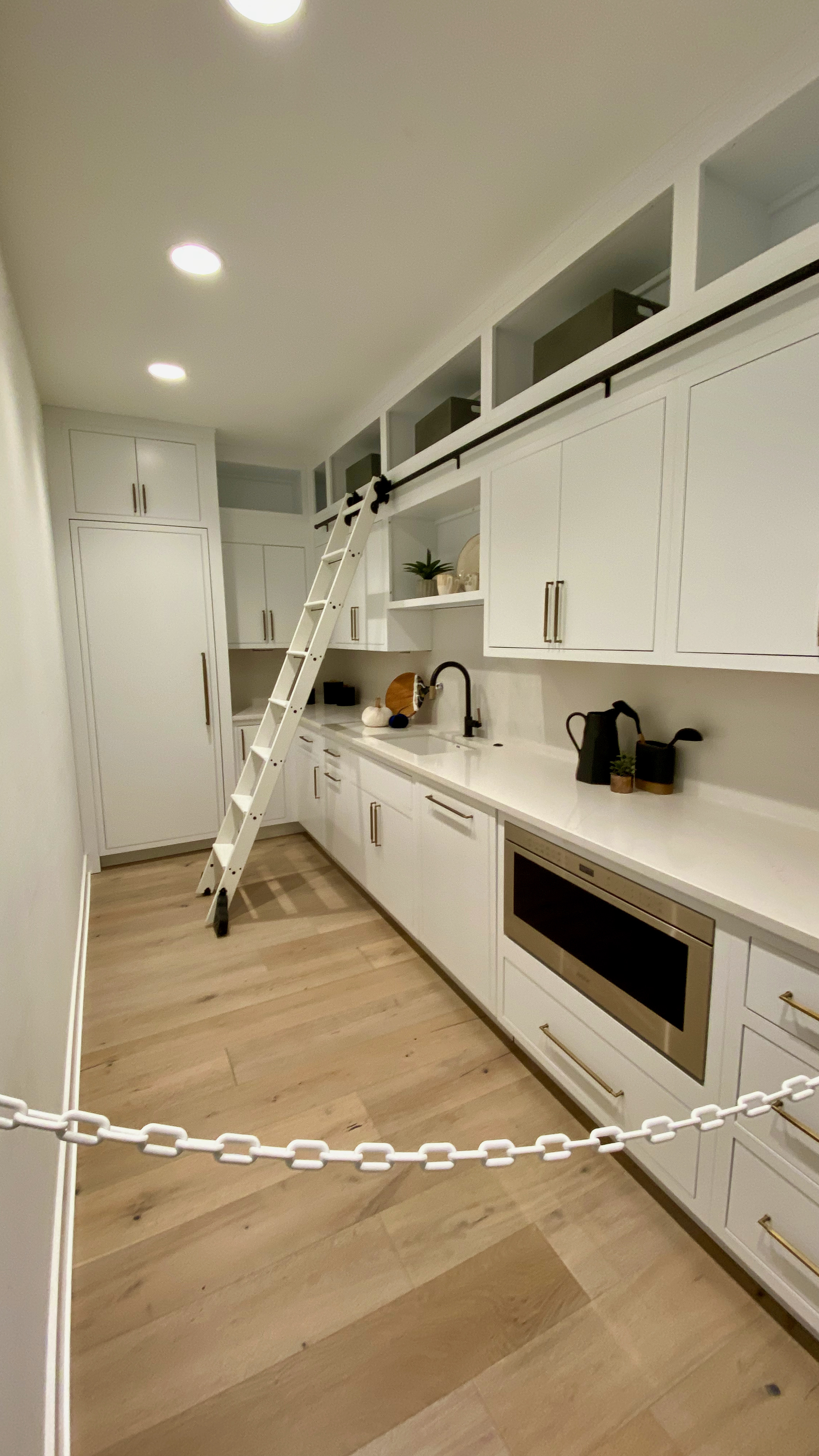 Several homes tried to incorporate this trend, but Redknot Homes really knocked it out of the park! They had full cabinets with an extra SubZero refrigerator, Wolf double ovens, a sink, and a dishwasher. These extra kitchen appliances and cabinets allow for the prep, catering, and dirty work to be done completely 'behind the scenes'. The other homes in the show offered a more traditional pantry with the status quo shelves swapped with cabinets and countertops. I think (and hope) that this trend will be a big feature of the 2022 Homearama show. I'm convinced his new style of pantry will soon overtake the custom home market for sure!
Open, but Private
This year one major thing remained consistent across all homes – seamless living for utilizing the entire house. I didn't see one home with a dedicated dining space or formal parlor. This isn't a new trend, but the new status quo. I believe that this is a result of the quarantine time everyone experienced. We all were together, but we needed our own spaces to work or play. This saw the rise of home offices and more specialized spaces.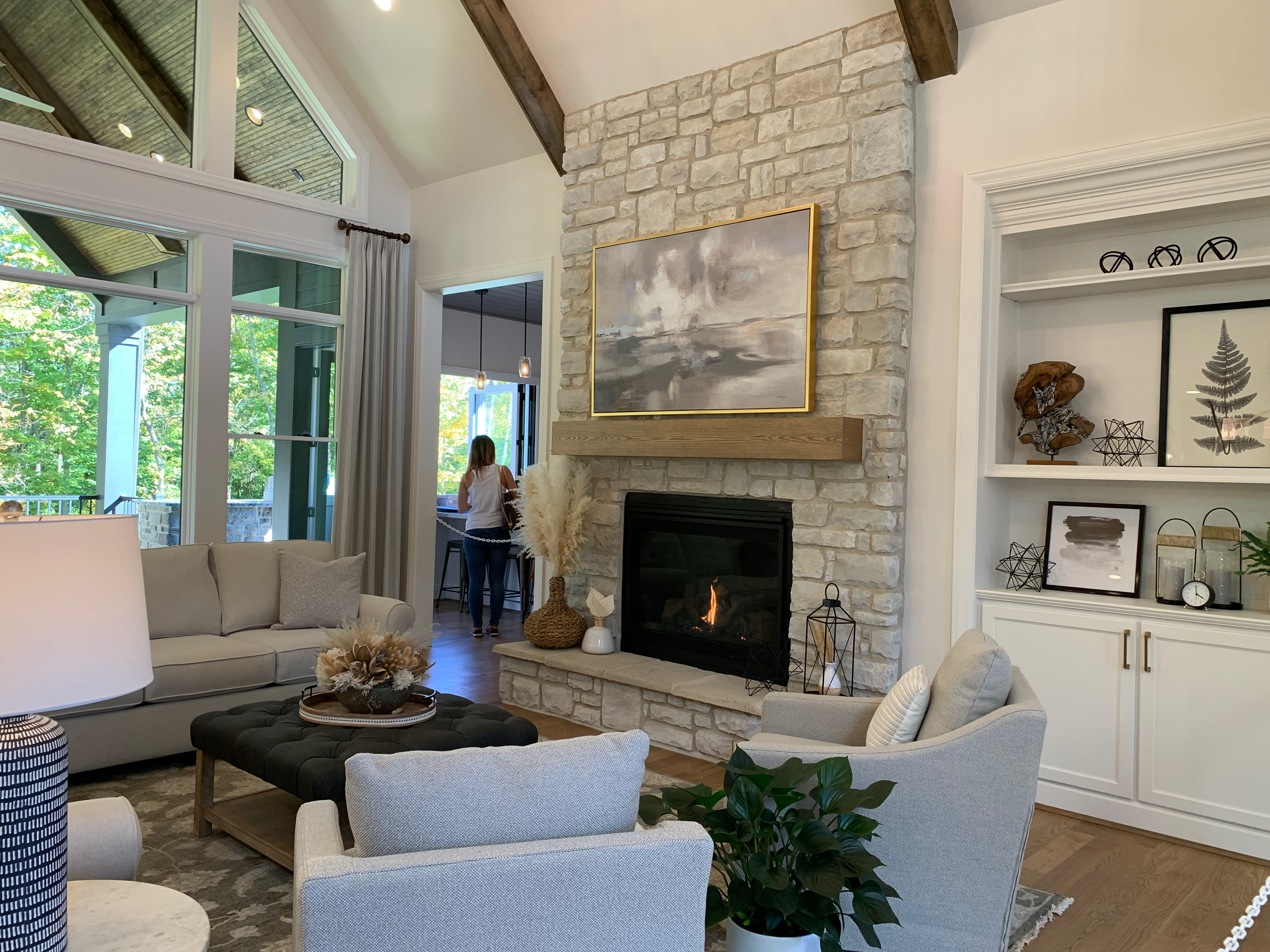 Each home in the showcase managed to keep their open concepts, while defining separate spaces. They achieved this through pocket doors, smaller case openings and even windows! Being able to section off a room or open two rooms to each other is a great idea because it makes it easier to entertain as well. I think that there will be a reduction in the full open concept to something where we have definitive rooms, but they are still open to each other.
Gather Around the Fire
Outdoor fireplaces became a major focal point of the showcase this year. From the moment you walked through the front door, the use of the walls and windows in the great rooms drew your eye to these spaces. While each home had different stone, the vaulted ceilings on the porches created an amazing outdoor living experience. These fireplaces are a great design choice because they make the terraces and porches available anytime of the year! These outdoor areas are designed in a manner that feel like an extension of indoor living spaces, inviting and warm. They also include a variety of amenities ranging from: outdoor kitchens and wood burning fireplaces to simple fire pits and conversational seating. Throughout the year, homes in any price range that featured these amenities were sought out after. Inviting areas are something that homebuyers look for.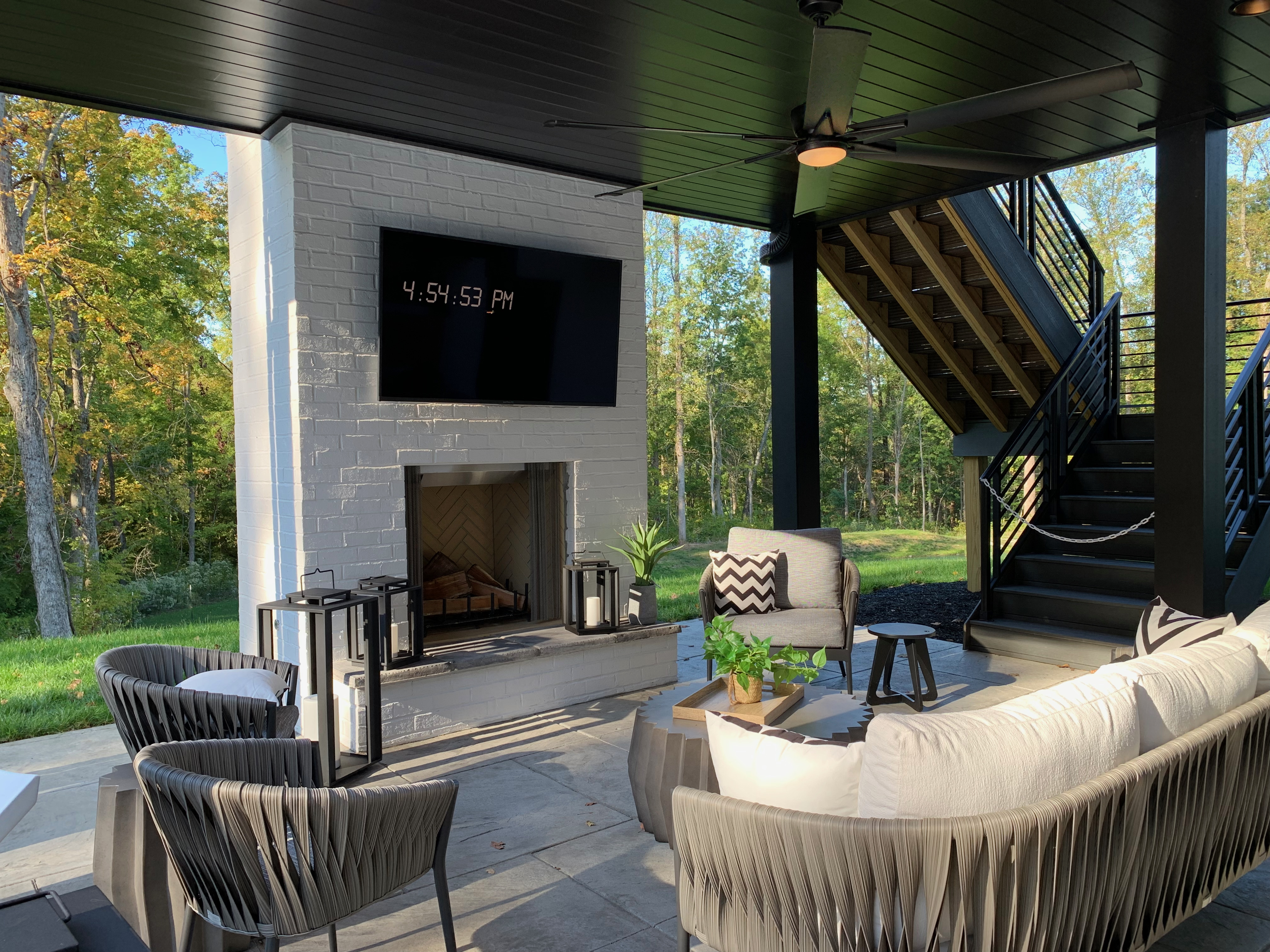 Let the Good Times Roll!
The last big trend that we saw this year were different social rooms ranging from golf simulators to different themed bars. Having an enjoyable space to entertain guests has always been "on trend" but we've seen a surge of demand for social rooms & a variety of amenities this year, undoubtedly a result of how we've been spending more time at home.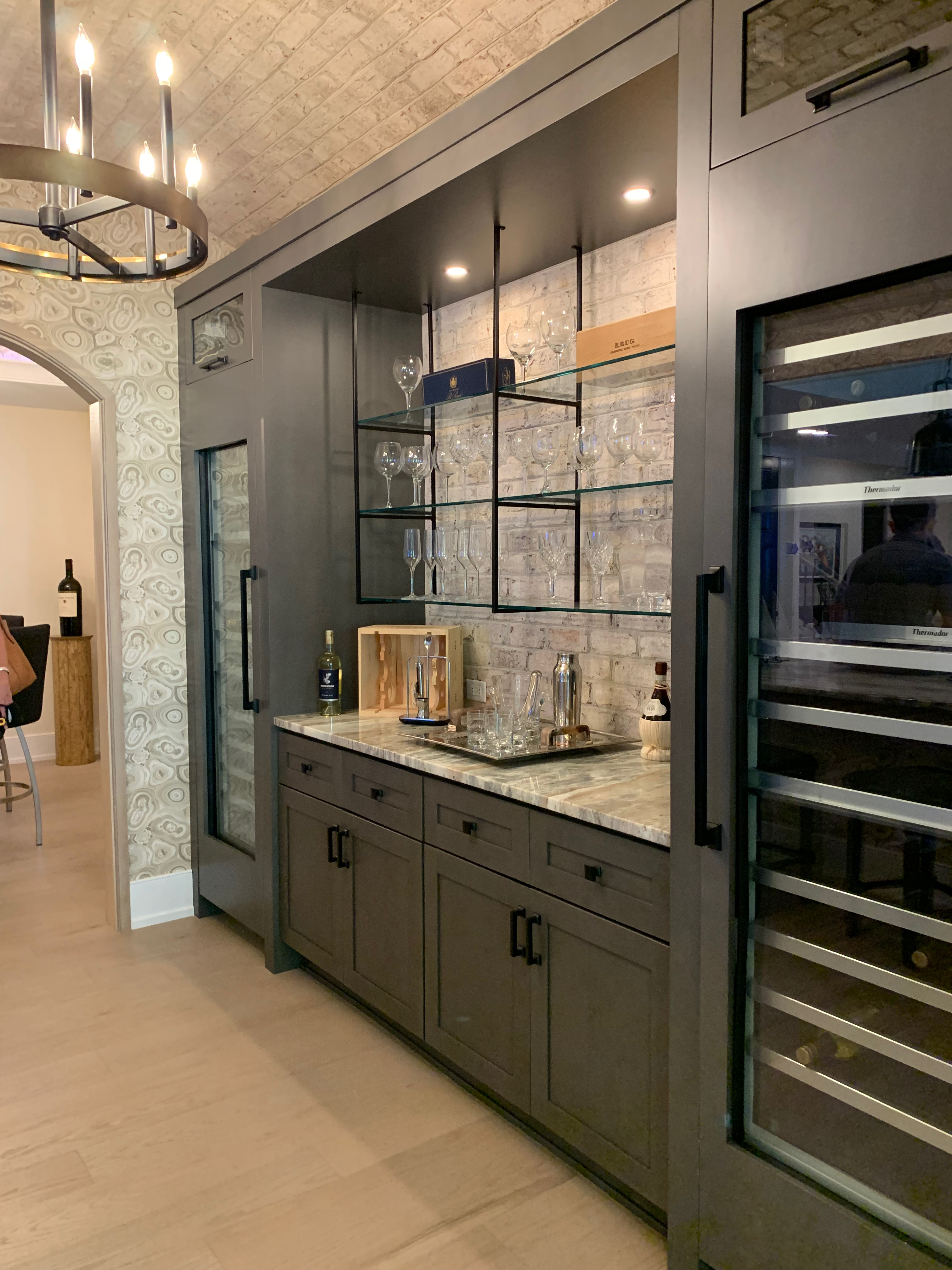 Bars were featured heavily throughout the showcase. Zicka Homes had a wine tasting room complete with two Thermador wine refrigerators for a perfect night with friends and good wine. If you don't like wine, they also featured a beer 'cave' that was refrigerated and filled with all kinds of beer! Right next door, Redknot Homes had a great wine bar with a SubZero wine refrigerator that flowed into a Bourbon sitting room complete with a fireplace and cigar porch! Weiland Builders had a fantastic bar off their great room that had a collapsible window by Pella that allowed for indoor and outdoor service from the bar. It's right by the outdoor kitchen and will also allow for easy grilling and prep!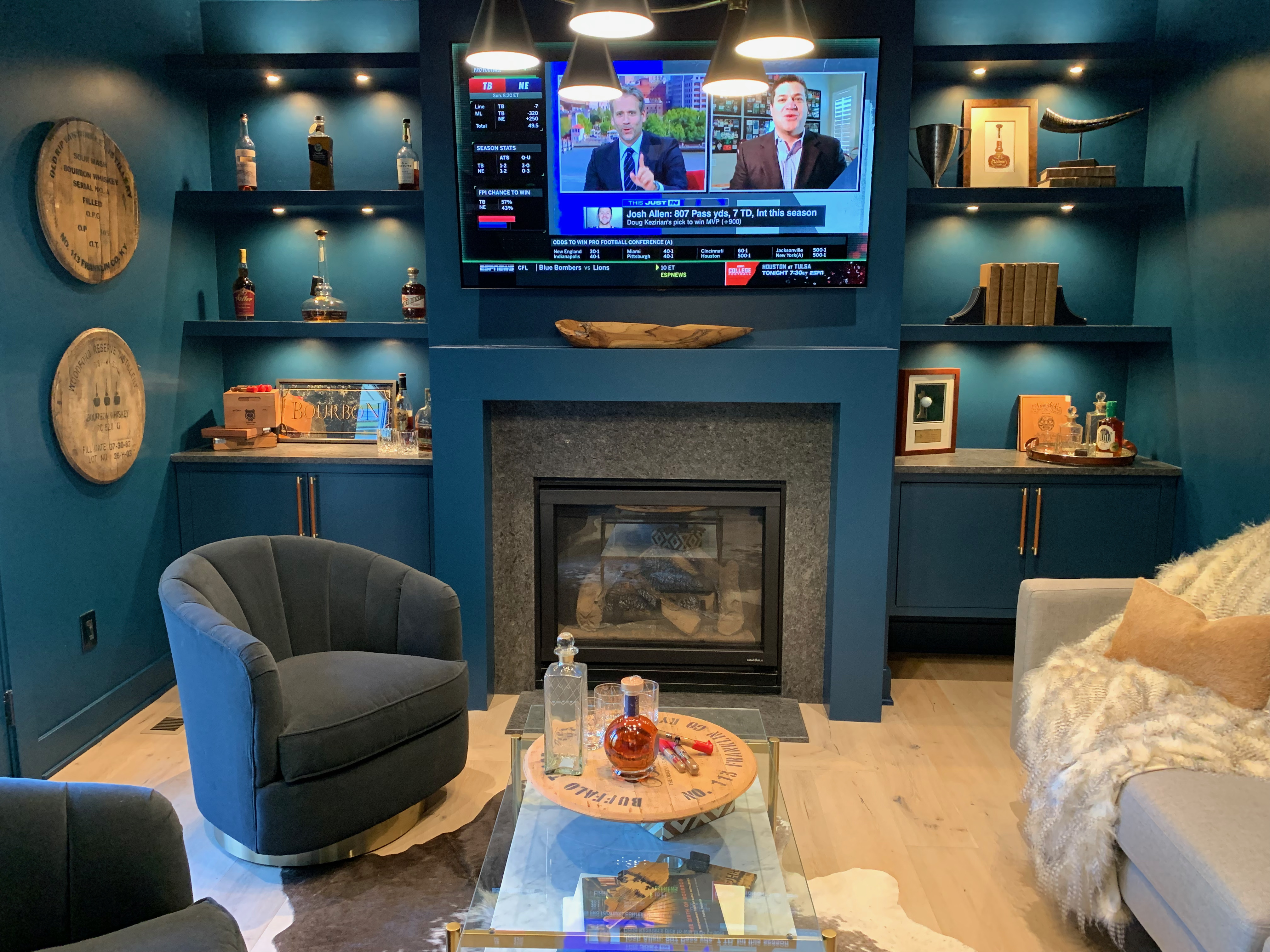 But I would be remiss if I didn't mention the most exciting social room of the lot: the golf simulator theatre! This amazing feature was in Redknot's ranch home. The Swing Analyst golf simulation steps down lower than the rest of the lower level and has an overlooking bar ledge that allows for a socializing aspect. All these features offered amazing ways to keep entertained – quarantine or not! HOMEARAMA did not disappoint with the amount of out-of-this-world 'toys' to tempt every homebuyer!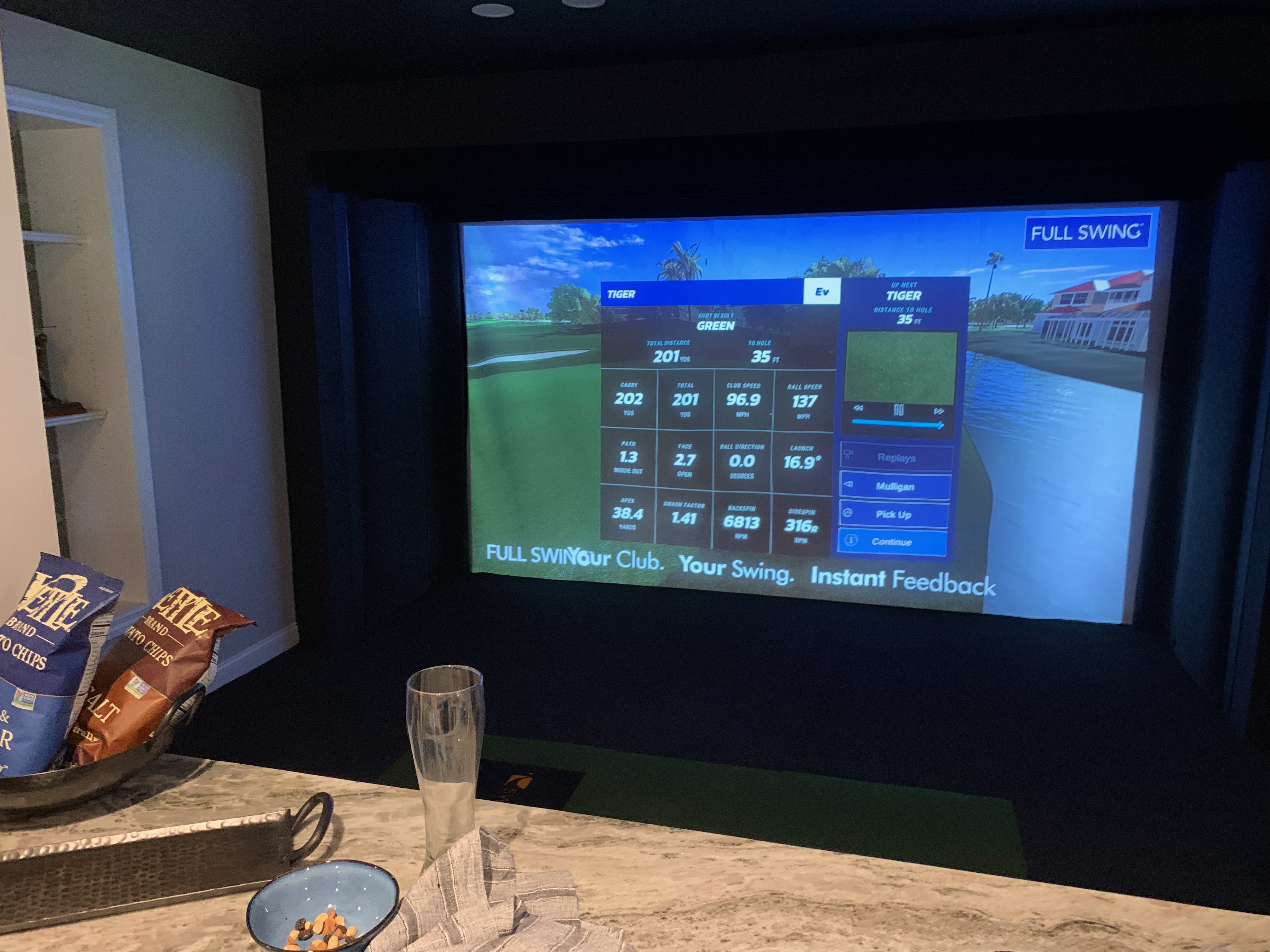 So, there you have it! We really enjoyed seeing these new trends and styles on display, and we hope to see more of them as the new year progresses. Join us next year for our HOMEARAMA 2022 report!