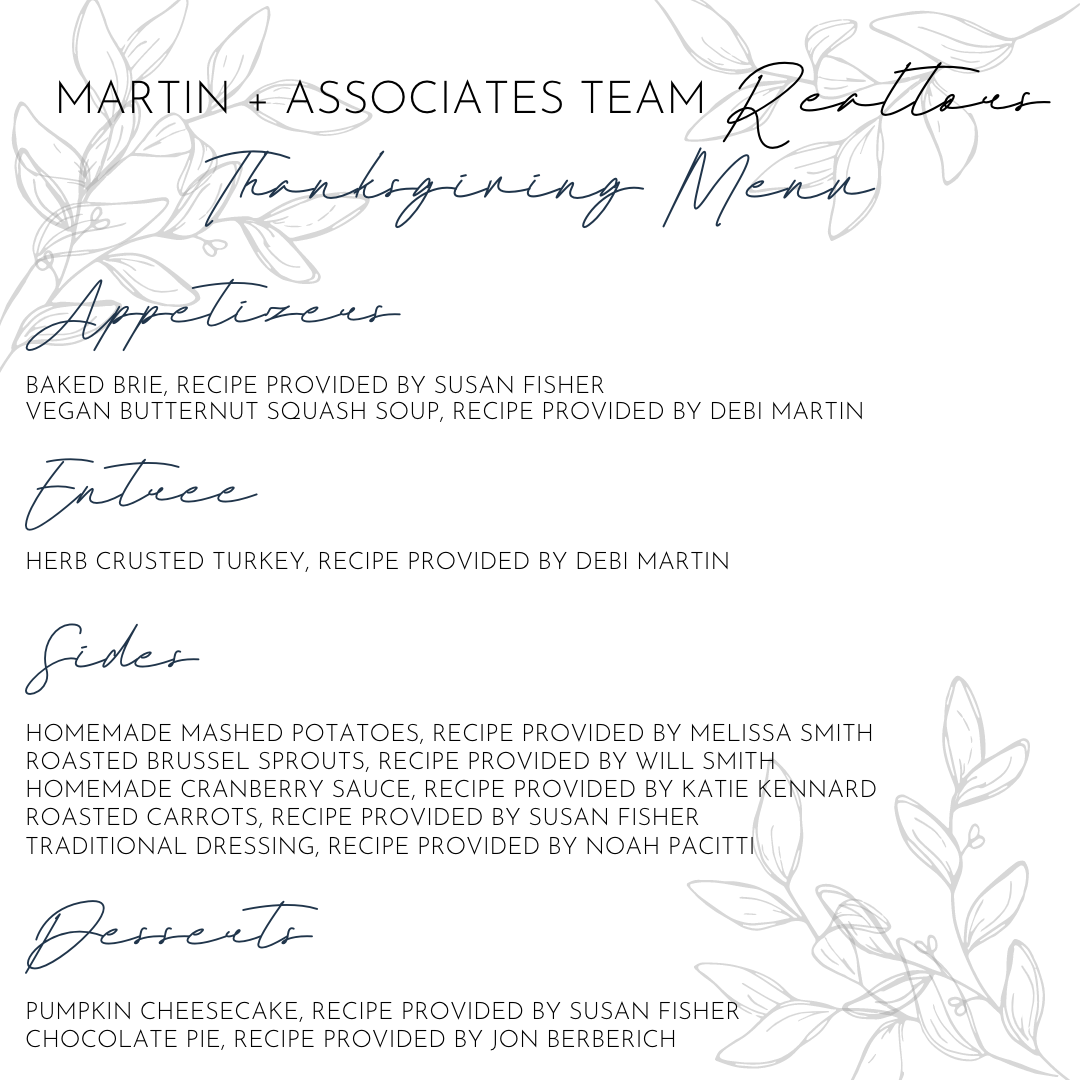 Baked Brie
Ingredients
1 puff pastry thawed
1 Brie wheel
1/2 c brown sugar
1/2 c toasted chopped walnuts or pecans
Directions
Take the Brie wheel, remove paper but not rind and slice lengthwise so it's like a sandwich.
Lay out puff pastry. lay half of Brie, rind side down so cheese is exposed on puff pastry.
Place brown sugar on cheese (so it's covering cheese and press in lightly)and then add chopped nuts.
Place the other half of Brie on top of nuts, cheese down-rind up.
Stretch puff pastry around Brie "sandwich".
Flip over so the nice side is up and place on a parchment sheet on a baking sheet.
Bake on 350 until golden brown.
Cheese will be oozing out some.
Serve with mixed crackers (wheat, water, sesame, butter
Recipe Submitted by Susan Fisher
Vegan Butternut Squash Soup
Ingredients
2 tablespoons extra-virgin olive oil
1 large yellow onion, chopped
½ teaspoon sea salt
1 (3-pound) butternut squash, peeled, seeded, and cubed
3 garlic cloves, chopped
1 tablespoon chopped fresh sage
½ tablespoon minced fresh rosemary
1 teaspoon grated fresh ginger
3 to 4 cups vegetable broth
Freshly ground black pepper
For serving
Chopped parsley
Toasted pepitas
Crusty bread
Directions
Heat the oil in a large pot over medium heat. Add the onion, salt, and several grinds of fresh pepper and sauté until soft, 5 to 8 minutes.
Add the squash and cook until it begins to soften, stirring occasionally, for 8 to 10 minutes.
Add the garlic, sage, rosemary, and ginger. Stir and cook for 30 seconds to 1 minute, until fragrant, then add 3 cups of the broth.
Bring to a boil, cover, and reduce heat to a simmer. Cook until the squash is tender, 20 to 30 minutes.
Let cool slightly and pour the soup into a blender, working in batches if necessary, and blend until smooth. If your soup is too thick, add up to 1 cup more broth and blend.
Season to taste and serve with parsley, pepitas, and crusty bread.
Recipe Submitted by Debi Martin
Turkey Recipe
Ingredients
10 - 14 lb. turkey* (fresh or frozen and fully thawed)
3/4 cup unsalted butter, softened plus additional for coating
2 tsp lemon zest
1 Tbsp fresh thyme leaves
1 Tbsp chopped fresh rosemary
1 Tbsp fresh chopped sage
Kosher salt and freshly ground black pepper
1 medium yellow onion, cut into eighths
8 garlic cloves, smashed
1/2 bunch Chopped fresh parsley
Directions
In a mixing bowl stir together butter, lemon zest, thyme and rosemary. Starting at the back end of the turkey, lift the skin and place this mixture being careful not to tear skin or butter will melt out as it bakes.
Transfer turkey to a large roasting pan with a roasting rack.
Using the end of the spoon again stuff and spread about 1/3 of the butter total into each portion and rub hands over turkey skin to smooth around.
Rub remaining butter all over the outside of the turkey to coat except the underside. Season well with salt and pepper.
Stuff onion, garlic and parsley into the cavity of the turkey. Tie legs together with kitchen twine if you want a better presentation.
Bake in preheated oven until thickest portion of thigh (without touching bone) registers 165 - 175 degrees on a probe thermometer or instant read thermometer, about 2 hours 20 minutes to 3 hours 30 minutes, while tenting the top of the turkey with aluminum foil during baking as needed to prevent excessive browning.
Let turkey rest 30 minutes (or up to 60 minutes) then carve
Recipe Submitted by Debi Martin
Fresh Cranberry Relish
Ingredients
1 unpeeled orange, cut into eighths and seeded
1 12-ounce package Fresh Cranberries, rinsed and drained
3/4-1 cup sugar
Directions
Place half the cranberries and half the orange slices in a food processor container.
Process until mixture is evenly chopped. Transfer to a bowl. Repeat with remaining cranberries and orange slices. Stir in sugar.
Store in the refrigerator, best made a day in advance!
Recipe Submitted by Katie Kennard
Stuffing
Ingredients
16 cups 1-inch bread cubes, white or sourdough (1 1/2 pound loaf)
8 tablespoons (1 stick) unsalted butter
2 cups medium-diced yellow onion (2 onions)
1 cup medium-diced celery (2 stalks)
2 Granny Smith apples, unpeeled, cored and large-diced
2 tablespoons chopped flat-leaf parsley
1 tablespoon kosher salt
1 teaspoon freshly ground black pepper
3/4 pound sweet or spicy Italian sausage, casings removed
1 cup chicken stock
Directions
Preheat the oven to 300 degrees F.
Place the bread cubes in a single layer on a sheet pan and bake for 7 minutes. Raise the oven temperature to 350 degrees F. Remove the bread cubes to a very large bowl.
Meanwhile, in a large saute pan, melt the butter and add the onions, celery, apples, parsley, salt and pepper. Saute over medium heat for 10 minutes, until the vegetables are softened. Add to the bread cubes.
In the same saute pan, cook the sausage over medium heat for about 10 minutes, until browned and cooked through, breaking up the sausage with a fork while cooking. Add to the bread cubes and vegetables.
Add the chicken stock to the mixture, mix well, and pour into a 9 by 12-inch baking dish. Bake for 30 minutes, until browned on top and hot in the middle. Serve warm.
Recipe Submitted by Noah Pacitti
Roasted Carrots
Ingredients
1 pound whole carrots, peeled and trimmed
2 tbsp olive oil
2 tbsp honey
salt and pepper to taste
Optional garnish: chopped parsley

Directions
Preheat the oven to 400 degrees. Line a baking sheet with parchment paper. Carrots can be cut in half or cut smaller to reduce cooking time. Place carrots on the baking sheet.

In a small bowl, mix together the olive oil, honey, salt and pepper. Pour the honey mixture over the carrots and toss to coat. Spread the carrots back out into a single layer with room in between the carrots. May need to use two baking sheets to give the carrots room. Bake for 25-35 minutes or until the carrots are tender and browned. The roasting time will vary depending on the size of the carrots.

Remove from the oven and serve immediately. Sprinkle with the chopped parsley, if desired.
Recipe Submitted by Susan Fisher
Crispy Brussels Sprouts
Ingredients
1 1/2 pounds Brussels sprouts
3 chopped sweet mini peppers
3 tablespoons olive oil
2 cloves garlic, pressed
3/4 teaspoon kosher salt
1/2 teaspoon freshly ground black pepper
Directions
Preheat the oven to 400 degrees.
Cut off the ends of the Brussels sprouts and pull off any yellow outer leaves. Dice the sweet peppers into small cubes.
Mix them in a bowl with olive oil, garlic, salt, and pepper.
Turn them out on a baking sheet and roast for 35 to 40 minutes, until crisp outside and tender inside. Shake the pan from time to time, to brown the Brussels sprouts evenly.
Sprinkle with more kosher salt and serve.
Recipe Submitted by Will Smith
Homemade Mashed Potatoes
Ingredients
Kosher salt
3 pounds boiling potatoes, such as Yukon Gold
½ cup whole milk
¼ pound (1 stick) unsalted butter
¾ to 1 cup buttermilk, shaken
½ teaspoon freshly ground black pepper
Directions
In a large pot, bring 4 quarts of water and 2 tablespoons of salt to a boil.
Meanwhile, peel the potatoes and cut them into 1½-inch cubes. Add them to the boiling water and bring the water back to a boil. Lower the heat and simmer uncovered for 10 to 15 minutes, until the potatoes fall apart easily when pierced with a fork.
Heat the whole milk and butter in a small saucepan, making sure it doesn't boil. Set aside until the potatoes are done.
As soon as the potatoes are tender, drain them in a colander.
Place a food mill fitted with a small disk or blade over a heatproof bowl. Pass the potatoes through the food mill, turning the handle back and forth.
As soon as the potatoes are mashed, stir in the hot milk-and-butter mixture with a rubber spatula. Add enough buttermilk to make the potatoes creamy. Add 2 teaspoons of salt and the pepper, or more to taste, and serve hot.
To keep the potatoes warm, place the bowl over a pan of simmering water for up to 30 minutes. You can add a little extra hot milk to keep them creamy.
Recipe Submitted by Melissa Smith
Pumpkin Cheesecake
Ingredients
Crust
1 3/4 C chocolate wafer cookie crumbs
1/4 c unsalted butter, melted
Filling
1(15oz) can solid pack pumpkin
3 large eggs
1/2 c packed light brown sugar
1 tbsp vanilla extract
1 1/2 tsp pumpkin pie spice
3 (8oz) pkg cream cheese, softened
3/4 c granulated sugar
2 Tbsp cornstarch
Topping
1 (16oz) container sour cream
3 tbsp granulated sugar
2 tsp vanilla extract
Directions
Crust: With cooking spray, lightly coat 10-in. springform pan. In a bowl, mix crumbs and butter. Press onto the bottom and 1/2 in. up the sides of the pan. Place in the freezer. Preheat oven to 350
Filling: In bowl, whisk pumpkin, eggs, brown sugar, vanilla and pumpkin pie spice until smooth. In a large bowl with an electric mixer on medium-high speed, beat cream cheese 1-2 minutes until fluffy. Gradually beat in granulated sugar, then cornstarch, until smooth. With a mixer on medium, beat in pumpkin mixture. Pour into the chilled crust. Bake for 1 hour, until the center is almost set but still slightly jiggly: leave the oven on. Let the cake cook in the pan on a rack for 5 mins.
Topping: In a bowl, whisk all ingredients until smooth. Spread over cake; bake for 6 more minutes. Let cool in the pan on the rack. Refrigerate overnight or up to 3 days.
Recipe Submitted by Susan Fisher
Chocolate Pie
Ingredients
1 Recipe baked pastry shell
4 eggs
1 cup sugar sugar
1/4 cup cornstarch or 1/2 cup all-purpose flour
3 cups milk
3 ounces unsweetened chocolate squares
1 tablespoon margarine or butter
1 1/2 Teaspoon vanilla
Directions
Prepare baked pastry shells. Separate egg yolks from whites.
Filling - Combine sugar and cornstarch. Gradually stir in milk and add in chocolate squares. Cook over medium-high heat while stirring regularly until thick. Once the filling has reached boiling point, stir for an additional 2 minutes. Remove from heat. Lightly beat egg yolks. Gradually stir 1 cup of hot filling into yolks. Pour egg yolk mixture into the hot filling in pan. Bring to a gentle boil. Cook and stir for 2 minutes. Remove from heat. Stir in margarine/butter and vanilla.
Pour warm filling into the baked pastry shell. Cool on a wire rack for 1 hour. Chill 3-6 hours before serving; cover for longer storage.
Baked Pie Shell
In a mixing bowl, mix together 1 1/3 cups all-purpose flour and 1 teaspoon salt.
In a measuring cup, pour in (but don't stir together; 1/3 cup cooking (salad) oil and 3 tablespoons milk.
Pour both oil and milk into flour and stir until mixed. Dough should look moist, but isn't sticky. Press into a smooth ball. Place between 2 sheets of waxed paper (12' square). Roll out gently to the edges of the paper. Dapen table top to prevent slipping. Peel off top paper. If dough tears, mend without moistening. Lift paper and pastry by top corners. Place paper-side-up in a pie pan. Peel off paper, fitting pastry into pan. Flute the edges. Prick dough in a pan thoroughly with a fork. Bake until golden brown; 8-10 minutes in a 475 degree oven.
Recipe Submitted by Jon Berberich