Cincinnati Business Courier | EXCLUSIVE
Developer breaks ground on $1B residential community, adds homebuilding heavyweights

By Tom Demeropolis – Senior Staff Reporter, Cincinnati Business Courier
May 4, 2020, 2:13pm EDT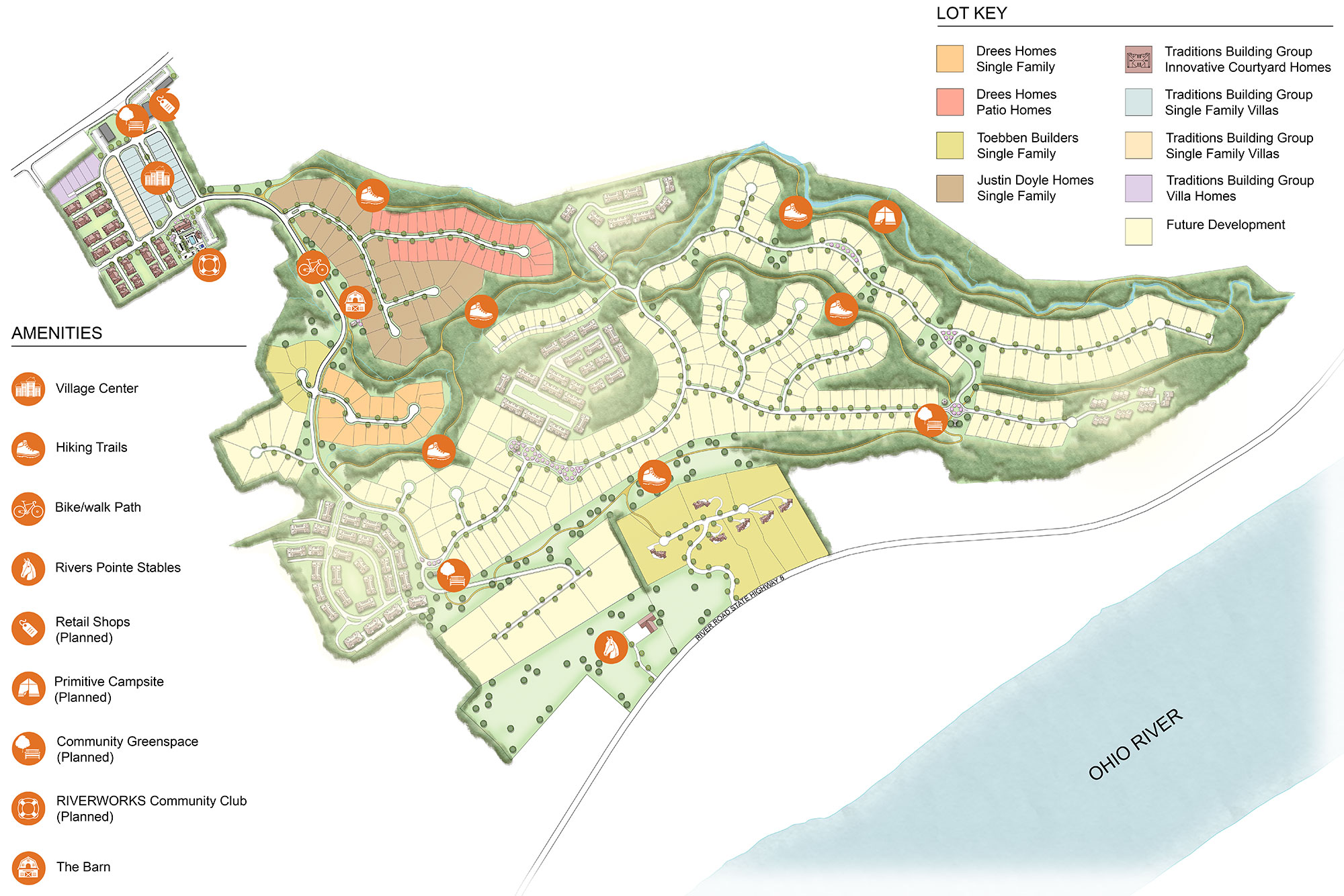 "After 27 years of assembling desirable riverfront real estate in Northern Kentucky, Toebben Cos. has broken ground on the first phase of its master-planned $1 billion residential community in Hebron.
Rivers Pointe Estates, a 400-acre community that will include a variety of housing types, will start with a first phase of about 90 acres. This initial phase of the development will include a new urbanism village area, patio homes, single-family homes and custom homes.
John Toebben, president of Toebben Builders and Rivers Pointe Development Co., said when completed over the next 10 to 15 years, the community will have 1,000 homes in it and be one of the largest master-planned communities in Greater Cincinnati.
"We started with the process of letting the land tell the story of how to develop the site of now 400 acres," Toebben told me. "It is simply an amazing piece of property."
In addition to Toebben Builders, which has already been building homes on 2-acre riverview lots in the Reserve at Rivers Pointe, the developer has added Traditions Building Co., Drees Homes and Justin Doyle Homes as building partners in Rivers Pointe Estates.
Toebben said there was an extensive review process of builders before selecting these three builders.
"Traditions has an incredible track record of being innovators," Toebben said. "For the village area we needed someone who was very familiar with that type of building."
Drees Homes has partnered with Toebben in other communities throughout Northern Kentucky. The two companies have worked together for more than 35 years.
And Justin Doyle Homes has become the leader in luxury homes in Greater Cincinnati, Toebben said.
"He really brings a lot of fresh ideas into the industry," Toebben said. "He's very passionate about homes and how he builds them."
Traditions will be building in the village area of Rivers Pointe Estates, located just off KY-237. Doug Hinger, president of Traditions Building Group, said Traditions has looked for years for the right opportunity to build in Northern Kentucky.
"From the first time we saw plans for the front village, the mixed-use portion of the first phase, it just seemed like a really good fit for us," Hinger told me.
About half of the Traditions homes in the first phase will be single-family detached homes. Most of these homes will have alleys with rear-entry garages. Others will have walk-out lots. These homes will be in the $400,000s.


The other homes will be a new type of attached home. These courtyard homes will start in the upper $300,000s.
Hinger said Traditions' homes will appeal to buyers ranging from young professionals to families and empty nesters who want to be part of a community.
Ray Neverovich, president of Drees Homes Cincinnati division, said the homebuilder wanted to be part of Rivers Pointe Estates because it is unique.
"There's really nothing like it," Neverovich told me.
Drees will build patio homes and single-family homes on 80-foot wide home sites. The patio homes in Rivers Pointe Estates will start right around $400,000, with most of the homes being built on wooded sites. There are 36 patio home sites in the first phase.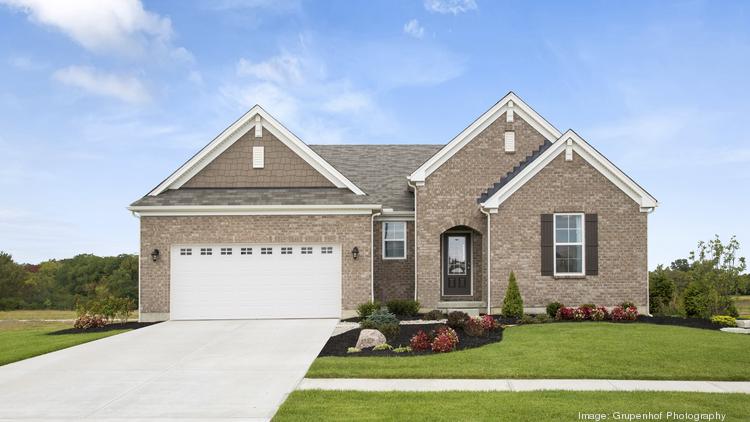 Drees also has 20 home sites in the first phase for single-family homes. These homes will be priced starting at $450,000.
Justin Doyle Homes will join Toebben Builders in Rivers Pointe Estate building custom homes on 90- to 100-foot wide lots. Justin Doyle, owner and president of Justin Doyle Homes, said after seeing the land with its rolling hills and river views, as well as Toebben's passion for the community, he knew this community checked all the boxes. Doyle said like his company, Toebben prides itself in its commitment to quality.
"It's exciting to know you're partnering with a developer who shares in the same values," Doyle said.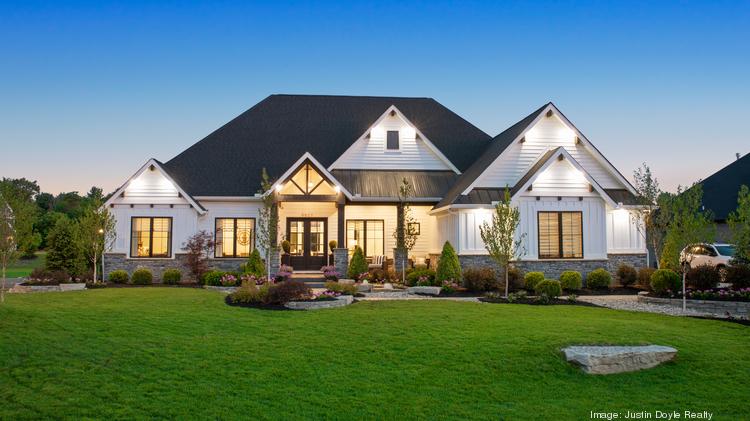 Even though they have just started a soft marketing launch, Justin Doyle Homes is already receiving "tremendous traffic," he said. Justin Doyle Homes has 30 home sites in Rivers Pointe Estates' first phase that will be priced from the $500,000s and up.
Toebben Builders' homes, which will be on the same size lots as Justin Doyle Homes, in the first phase of River Pointe Estates will be from the $600,000s and up. Toebben Builders has set aside six home sites in the first phase of the development for it to build on. There are two home sites remaining in Reserve at Rivers Pointe. Homes there have sold from $900,000 to just over $2 million.

Construction of model homes is planned for July and builders are now accepting lot holds.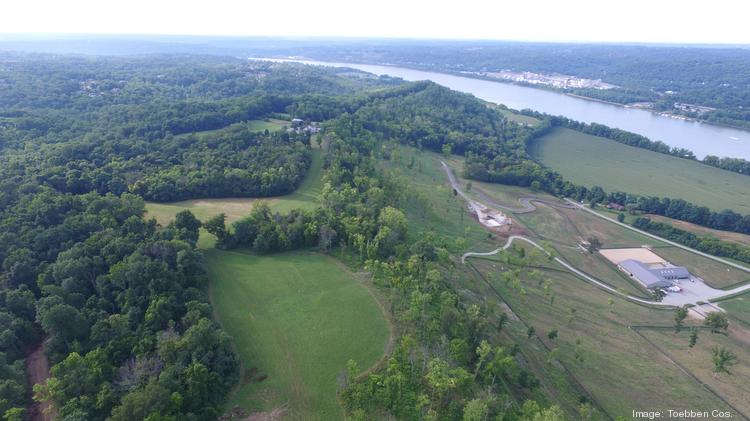 Toebben said a lot of thought and care has gone into planning Rivers Pointe Estates. Every street has a cul de sac ending and there are no homes on the main drive.
The village portion of Rivers Pointe Estates will be surrounded by three new retail buildings with specialty shops. Toebben said they are looking to bring in a fitness center, coffee shop, brewery and spa.
The community also will have a village green event area and a new community amenity center. This amenity center, called Riverworks, will have two pools, a large clubhouse and a variety of outdoor activities.
Construction of Riverworks and the other community amenities is scheduled to start in 2021, with an expected opening in 2022.
Rivers Pointe Estates also will be the first golf cart community in Northern Kentucky, Toebben said.
Other amenities in Rivers Pointe Estates will include parks, bike trails, an equestrian center, miles of wooded hiking trails and a camping site. About 20% of the 400-acre site will be preserved as green space.

While this is the first phase of Rivers Pointe Estates, future phases will offer more housing types and different homes sites. Rivers Pointe Estates will include more than 1 mile of river view lots. Other new housing options will include luxury five-story condominiums with river views, river view villas and cabin creekside homes."